dancingdragon3.livejournal.com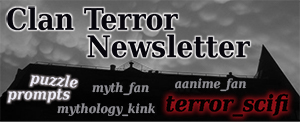 This newsletter doesn't include Wreckin Wednesdays or the Puzzle Prompts catch-up I still need to do. But hurrah for all the activity around the Clan last week! Cheers, y'all :-)

If any Clan members would like to be promoted in the next newsletter, please comment below with links (AO3 prefered) to your recent stories, artwork, video etc. If anyone wants to be left off the newsletter in future, please let me know that, too.

Winter Fest entries may be posted directly to either Terror Scifi or Myth Fan (or both), depending on the genre.

Reccs for other people's work get commented to Wreckin Wednesdays posts, please.
( Read more... )