dancingdragon3.livejournal.com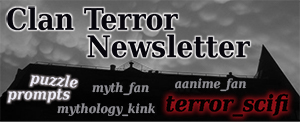 Good thoughts to any Clan Members in Hurricane Mathew's path. Please be safe! October

puzzleprompts
Hints:
Power Hour:
Magic
| Creature Feature:
Bats, Spiders, or Wolves
| Random Descriptor:
Dead/undead/reanimated/resurrected
. November will be bird themed. December will be an amnesty month.
New Clan Member!
Long time affiliate, the comm for dark Supernatural fan fiction

spn_dark_vault
has now officially joined Clan Terror. SPN and dark fic fans, please give this specialty community some love!
New reviews!

sabotabby
is now recap reviewing Luke Cage at

terror_scifi
.
Clan Terror Newsletter ~
Wednesday October 5th (September 24th - October 4th)